Electunic Social Networks
I've written earlier about electronic social networks and they way they could be used to support talent management within the context of a large organization. I've also written about how they might be used to make inferences about the suitability of particular organization structures to the fulfillment of whatever goals an organization has: social governance, providing professional services, building iPods, etc..
At other times, I've written about serendipitous events that have taken place on a plane. This is a story about the intersection of those two domains and involves iTunes, 111 S. Wacker (Chi-town stand up) and a couple of co-workers.
The popularity of the iPod has made iTunes the de facto media player and library-management solution for millions of people. Because it "just works", many people install it, allow it to upgrade itself and exist blissfully unaware of some of the cooler things it allows. Smart playlists are one of my favourite features, but music sharing is also incredibly nice. With the appropriate caveats, iTunes Sharing is limited to other people – and then only five of them – on your local network. That means, you can share with other people in your university dorm, your office or your apartment building (if you're sharing a wireless access point). This doesn't mean you can bulk copy someone else's library, just that you can listen to their music and expose yourself to new things. It's an interesting feature because it allows you to explore the musical tastes of others and find out which of them are worthy of your awesomeness. Ha! Oh, look. Doug is sharing music. What's he listen to?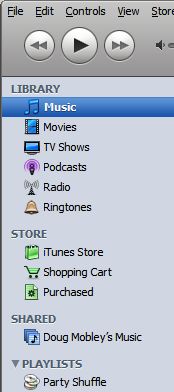 There are similar sites online, places like Last.fm and Pandora, but they lack the same intimacy of iTunes Sharing. With iTunes, you are sure to be in close proximity to the people you're sharing with. So, even if you don't currently know them, you can introduce yourself and bond over cookies and tea.
Because the laptop I most frequently carry belongs to my employer, it doesn't contain most of my music library. Nonetheless, I have iTunes configured to search for shared libraries. While I was working at the Chicago office, I opened iTunes and found a shared library that contained somewhat obscure Canadian music: bands like The Weakerthans, Tokyo Police Club, Broken Social Scene and so forth. I was simultaneously surprised and intrigued. While some people name their shared library something clever like Sonic Squirrel, others just use their own name, which makes it pretty easy to track them down. Particularly when they're all listed in a corporate address book. So, I sent Stephanie an email and arranged to meet her in the kitchen. She's a recent graduate of the University of Chicago's MBA program and got tuned in to some great bands by one of her Canadian classmates.
So, that's the first part of my Electunic story. Jump ahead a few months. Just as I was finishing my project in Chicago, I came across a posting in one of the local Chicago papers about an upcoming show of The Weakerthans. I figured this would be a good addition to my goodbye note to Stephanie. When I dashed off my message, her out-of-office message told me she was away and that I should contact Renee Martin for assistance. Well, Renee is a longtime friend of mine. And, five minutes after sending my goodbye note, I was actually scheduled to meet Renee for dinner. What a strange web I've woven. I told Renee and Stephanie about it – neither of them knew that I knew the other – and we all had a good chuckle. Music brings the world together. Even online.