Fidelicious Mojitos
I drink only rarely, but I really delight in taking flavours that I enjoy in other foods and drinks and making them into fantastic cocktails. Although it's hard to beat a limey gin and tonic by the pool on a summer day, I really enjoy rum, especially the dark or amber varieties. If you put a bottle of good dark rum – Gosling's Black Seal, for instance – in the freezer and then sip it neat, you get delicious notes of molasses. Yum.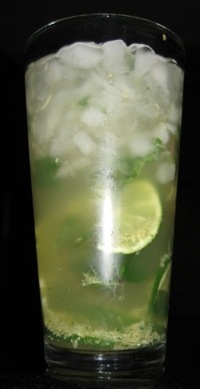 Several years ago, when visiting Cuba, I fell in love with mojitos. I don't really like mint (and the mint sauce my mum once served with lamb was revolting), so it really surprised me how much I enjoyed the drink. When combined with the caramel flavour of cane sugar, the smoothness of rum and the citrus tang of fresh lime, the mint became just a plucky member of the chorus, and, with it fading quietly into the background, I was able to appreciate the way it supported the other flavours.
As a tribute to the drink of Cuba, and to memorialize my time there, I've created a new drink that hails from the noble mojito. I call it the Fidel-icious (Fi.del.icio.us in Web 2.0 parlance). It combines the greatness of the mojito, with the bite of ginger.
The Recipe
1/2 of a fresh lime
6 quarter-sized slices of ginger (translucently thin)
1 teaspoon course cane sugar
8 mint leaves
2 ounces dark rum (Bacardi Black)
1 ounce coconut rum (Bacardi Coco)
1 tablespoon of Grand Marnier or Cointreau
1 cube crystallized ginger (optional)
4 cups of crushed ice
1 can soda water
Directions
Mince the cube of crystallized ginger and shave 6 quarter-sized piece of fresh ginger.
Squeeze the juice from 1/4 of a fresh lime into a pint glass. Cut the other 1/4 of the lime into 3 wedges. You can also cut a bunch of circular slices to put in the glass because they make it look really pretty.
Add all the ginger, cane sugar and mint into the glass. Using a muddler (or the handle of a wooden spoon) pound the ginger, sugar and mint together in the lime juice to release the flavour. Add two more lime wedges when you're done.
Fill the glass with crushed ice and pour the Grand Marnier (or Cointreau), dark and coconut rum through it. Using a long spoon, stir the ice, rum and muddled mix together. Finally, top the glass up with soda water, give it a final stir and garnish it with the remaining lime wedge.
Fidelicious!