Kick-ass Cookies
I've been on the farm for a little over a month and it's been great fun. With no one around, I've had a lot of time to read, watch some movies, go for long runs in fresh snow and do a bit of cooking. I've made some really wonderful soups, but what I've enjoyed most is a cookie recipe I adapted from a Moosewood cookbook. The cookbook called them Cardamom Oatmeal cookies. I shook things up a bit and I call them Kick-Ass Cookies. The cookies are hearty, low-fat and packed with surprises. Whip up a batch.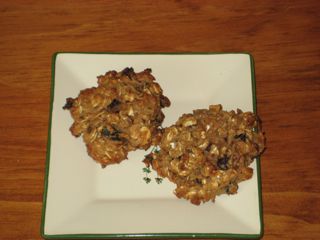 The Recipe
3⁄4 cup of apple butter
2 tablespoons of oil
2 eggs
3⁄4 cup brown sugar
2 tablespoons of molasses
3⁄4 cup chopped raisins
3⁄4 cup whole wheat flour
3⁄4 cup white flour
2 cups of rolled oats
1 teaspoon baking soda
1⁄2 teaspoon salt
1 teaspoon cinnamon
1 teaspoon ginger (or a tablespoon of grated fresh ginger)
1 teaspoon cardamom
Directions
If you don't have apple butter, you can make a decent substitute (below).
As you begin, preheat your oven to 350F and lightly oil a couple of cookie sheets with vegetable oil. You can use Pam if you prefer.
Next, soak 1⁄4 cup of golden raisins and 1⁄2 cup of dark raisins in a can of Coke. You heard me: Coke. Since both types of raisin come from Thompson seedless grapes (the former is sun dried, the latter is mechanically dried and treated with sulphur dioxide) you can use 3⁄4 a cup of whichever kind you like, but I like the variety of colours.
Place the apple butter into a food processor along with the egg, the spices, oil, sugar and molasses (NOT the raisins). Blend the mixture until you have a creamy batter.
When the batter is smooth, drain the Coke from the raisins, pour them into the food processor and run it for another 10 seconds until the raisins are chopped (but not all blended smoothly – chunks are good). You can do this with a knife if you like, but I enjoy the thrill of using a good Cuisinart!
With a spatula, scrape the batter into a glass bowl and then slowly add the oats, flour and baking soda, mixing until it's all incorporated. Cover and let it sit for an hour to allow the oats to soak up some moisture.
Spoon the batter on to the cookie sheets and bake for about 15 minutes. Keep an eye on things because many ovens are different.
A Tantalizing Option: For something different, break a thin dark chocolate bar, and stuff a few shards of chocolate into the top of six cookies before you bake them (and then covertly eat the remaining chocolate).
When the cookies are done, cool on a rack and store in the freezer. Since they're low-fat cookies with lots of apple, if they're not frozen, they tend to stick together. This recipe should make about 30 cookies of 6 cm diameter.
Making Apple Butter
Peel and slice six medium apples (the size of the slices isn't really important). Place all the slices in a glass bowl and microwave on high for six minutes. Stir the mixture and let it cool for about 10 minutes. Then stirred it again, and return it to the microwave for another six minutes. This heating process basically steams the apples and helps remove some of the water.
Take the hot apples and place them in a food processor. Run it until you have a smooth mixture. You can drop some fresh ginger into the mixture if you like. If you don't use it all for the cookies, ginger apple butter is really delicious inside crepes or on top of the cookies.